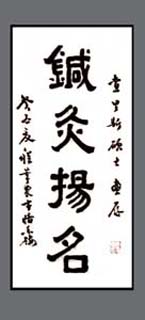 Acupuncture
&
Moxibustion

Acupuncture and moxibustion of traditional Chinese medicine - UNESCO: Representative List of the Intangible Cultural Heritage of Humanity - 2010
Moxibustion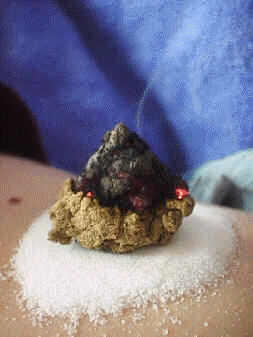 Moxibustion is a technique that is closely related to and often practiced with acupuncture. It is the local and focused application of heat to acupuncture points using a compressed, powdered combustible substance ("mugwort" or "moxa"), which is burned at or near the points to be stimulated. Heat on the one hand warms and strengthens the life force or energy and on the other hand unblocks its pathways and smoothes its flow. Its application is quite useful in conditions caused by cold and dampness and in cases of deficiency (weakness) of the organ functions. It has been effectively used for the treatment of asthma, diarrhea, rheumatic pain, abdominal pain, vomiting and certain gynecological disorders. It has been also found very effective in turning breech babies into a normal head-down position prior to childbirth.
THE TECHNIQUE
Moxibustion with moxa cones: A small, cone-shaped amount of moxa is placed either directly on the skin (direct moxibustion) or insulated from it by a layer of ginger, salt, garlic, or aconite cake (indirect moxibustion) and ignited. When the heat becomes uncomfortable, the cone is removed and replaced by another one. Several cones are continuously burnt to cause flush to the local site, but no blister should be formed (non-scarring moxibustion). Only in a few special cases, the cones are allowed remain on the skin until burnt out completely. This may lead to a local burn, blister, festering and scar after healing (scarring moxibustion).

Moxibustion with moxa sticks: A moxa stick is made by rolling the mugwort leaves in paper to create a cigar-like stick. The stick is lit at one end and held an inch or two from the skin to deliver a gentle amount of heat, but not burning, for some 15 minutes until the skin becomes slightly red (mild-warm moxa). In some cases, the ignited moxa-stick is moved up and down over the point to be heated like a bird pecking, or moving left and right, or circularly (sparrow-pecking moxibustion).

Warming needle moxibustion: An integration of acupuncture and moxibustion used for conditions in which both retention of needles and moxibustion are needed. In this technique, moxa-wool or a portion of moxa-stick is placed on the handle of an inserted needle and ignited to generate heat which is delivered through the needle to the deeper tissues.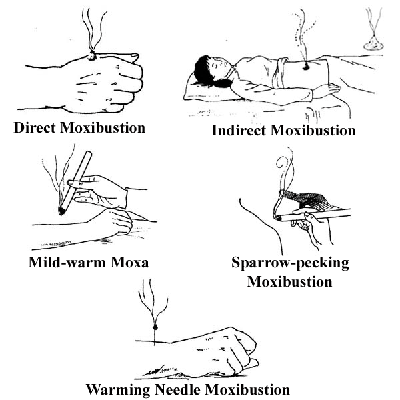 ARTICLES: